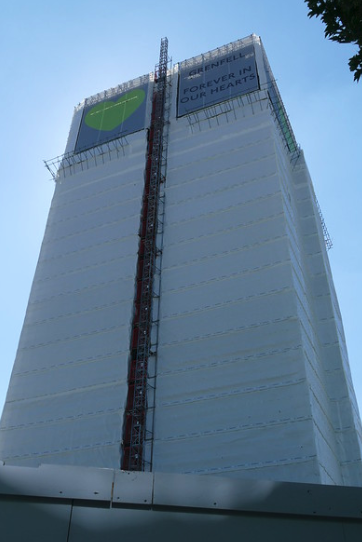 Sharda Rozena conducted her research on the gentrification of Lancaster West Estate, which includes Grenfell Tower, and the displacements that occurred before, during and after the atrocity that was the Grenfell fire in 2017.
In an article for the Housing After Grenfell University of Oxford website she details how social divisions were evident in local politics and how Conservative councillors continued to stigmatise the Estate and social housing tenants, even after the fire talked about social housing in terms of percentages, units or 'blocks. . . In a very transactional statement, one councillor said: 'we lost 2 and a half percent of our housing stock in one building in that Tower.' Institutional indifference towards council tenants was reflected in their comments. A councillor told me that the tower block had not been 'particularly pretty without cladding' and he was unsure about who had lived there: 'I don't know whether that was mixed, the kinds of people, I don't know, I didn't ask anybody.' This commentary from many Conservative councillors was unsympathetic and there was no discussion of their accountability. At the time of the interviews, we knew about the failings of RBKC and the neglect and contempt that residents were met with. But calling tower blocks 'ugly' and 'undesirable places to live', as another councillor described them, shows the continuation of a 'sink estate' rhetoric that attempts to legitimise the demolition of social housing on the grounds that they are unpleasant places to live. Residents of Lancaster West told a different story on the appearance of their homes: 'Grenfell had a new coat and alright it looked nice, but it wasn't necessary by any means, it was just a building. It's functional.' Many residents expressed how RBKC still wants to remove working-class people from the area; as Bale (2021) describes it: 'a deliberate attempt to cleanse these areas of those who are deemed surplus.' Catalina stated, 'I'm very proud of being from an Estate but at the same time it's hard when you do grow up with really big evidence that the council really doesn't care about you.'
The full article is published on the Housing After Grenfell blog page by the University of Oxford here: https://blogs.law.ox.ac.uk/blog-post/2022/06/opinion-grenfell-not-one-multiple-stories-displacement.
Sharda Rozena is a postdoc researcher at the University of Leicester putting together a digital portraiture exhibition based on her gentrification research in Kensington. The 'Real Faces of the Royal Borough' is a collaboration with professional Canadian artist Nevada Lynn and uses portraits as a form of housing activism. More details can be found on the website here: https://www.facesoftheroyalborough.com/.